Your Ultimate Guide to X Stand Banners
Need a personalised banner that looks sleek and professional in any space? Lightning Prints has you covered with the launch of our new X-Stand Banners! It comes with everything you need for an effective advertising display: a personalised banner, a solid X-frame stand, and a suitable carrying case.
In today's blog, we will be sharing more about this versatile product that we think every business should invest in!
What are X Stand Banners?
The X Stand Banner is a portable advertising medium. The advertising PVC banner has holes at the four corners at the grommets. This type of visual is attached to a lightweight X-frame structure by tensioning it. It's a handy transportable advertising stand that is adapted to use for retail signage or POS (Point of Sale Advertising) type of display.
The X stand banner model is the best option for customers looking for an inexpensive, retractable banner stand. Their low cost makes them an ideal banner display for large promotions. They're often needed in large quantities to place by each entry and exit. Product displays in showrooms or retail stores are among the most common uses of X banner stands.
Lightweight & Portable
Handling is easy both during the event in question, as well as outside of it. Transporting the banner is simple. It's easy to set up and to move from one position to another. They're easy to change orientation, dismantle and to fold up in its travel container. You can take the stand and display it with you wherever you go to promote your brand. Your business meetings will never be more efficient, fun, and fluid.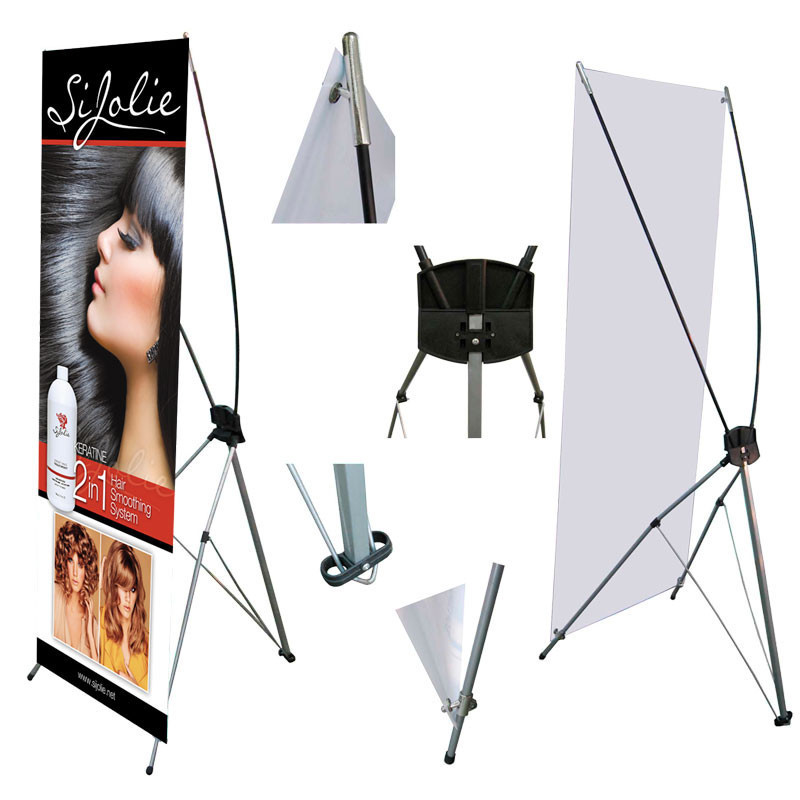 These banner stands are made from lightweight aluminum and can be slipped into small spaces. You won't find anything cheaper on the market than an adjustable X stand banner. They offer the greatest flexibility for mounting purposes. They're better than standard PVC banners because of the built-in mounting system.
Personalising the printing of your banners will help you get your message across. This banner is suitable as an indoor banner or outdoor banners alike. Here are some ways you can placed your beautiful advertising poster:
If there is one thing we can recommend, it is to avoid areas with high wind exposure. Gusts of wind can knock over the x-stand banner. You don't want your promotional banner to be taken away in a wind gust, but you can add weights to the legs if need be.
Steal the show at any occasion with an amazing sign!
PVC Banner graphics can be changed during the same party or event or from one occasion to another. They're perfect for the following events:
They do not require any tools to assemble or disassemble them. With a stopwatch in hand, it won't take you more than a minute to deploy your banner!
The X banner comes in three pieces:
To mount an X stand banner, attach the tripod base to a flat floor. Then insert the arms with the hooks facing forward. After you're done, hang the PVC graphics on the hooks at the ends.
To preserve your banner, roll it up with the ink side facing in and put it back in its original shipping box.
Roll it up carefully so that the banner does not wrinkle. If wrinkles do form, a tip is to leave the banner in sunlight for 1 hour. This will restore it to its original nice and neat appearance. 
Time to clean your banner? Use a mixture of water and mild soap and rub lightly with a non-abrasive cloth. Clean accessories in the same way. Use a damp cloth, but make sure the banner dries completely before storing it in its case.  
Looking for a custom affordable banner? Creating a banner tailored to your specific needs has never been easier. Send us your unique design or ask our professional graphic designers for advice. If you have any questions about X-Stand Banners, please contact us, Lightning Prints, at: 98267596 or email us at: ask.lightningprints@gmail.com or fill up this contact form here! We're available from Mondays to Fridays, from 9am to 5.30pm!
Best price and quality of product guaranteed. We'll get your custom x-stand banner kits to you anywhere in Singapore in a few business days!