The Ultimate Guide to Foam Board Printing in Singapore
Do you want your brand's image communicated effectively without burning a hole in your wallet? Foam board printing might be just what you're looking for! They're low-cost and suitable for use at any event, making them very versatile. Lightning Prints provide foam board printing service in Singapore. In today's Lightning Prints post, we will be covering all there is to know about our foam board prints!
Characteristics of a Foam Board  
Our foam board posters are printed on high-quality sticker mounted on a light low-density white foam board (Kapaline board). This results in the best of both worlds – a sharp, professional look, combined with a super-lightweight design. Whether you're getting small or large, these foam boards are easy to set up at events, storefronts, and offices.
Foam Board Winning Features
Fully customisable: size, design, and cut!
Great material for indoor and outdoor use
Comes in either glossy or matte laminate
Lightweight, portable
Easy to display or mount
Inexpensive
Incredible vibrant colours
Lightning Prints' Foam Board Printing comes in a variety of sizes. Our standard sizes range from A4 up to A0. 
| | |
| --- | --- |
| Size | Dimensions |
| A0  | 841mm X 1189mm |
| A1 | 594mm X 841mm |
| A2 | 420mm X 594mm |
| A3 | 297mm X 420mm |
| A4 | 210mm X 297mm |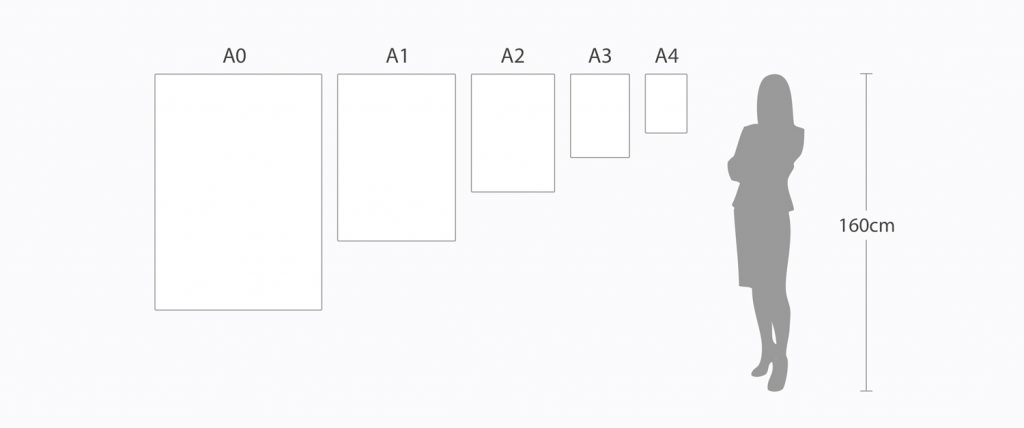 Custom Sized Foam Boards
Don't see the size you need? Fret not! Foam Boards can be adapted to practically any form. We can take any artwork, design, or logo and print it exactly to your specifications. For custom sized foam boards please click
here
.
Thickness
They are usually between 3mm to 5mm thick (1/8" and 3/16"). The 3mm option is a great option without compromising on quality – they're also a little lighter, making them the best option for presentations, lectures or for a mood board. For added durability, we offer the thicker 5mm foam board, which offers increased durability and is less prone to bending or creasing. Their enhanced 3D appearance means they can give a bigger impact.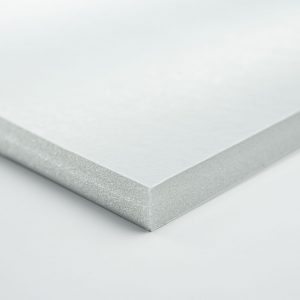 Sticker Material 
When it comes to the material of our sticker, we opt for the use of PP (polypropylene) sticker. It is ideal for its rich luminous effect as its colours appear well. Shimmer can be seen through the print in a subtle, elegant name. 
Our stickers are also moisture resistant and withstand external elements with its double layer.
Finish
You can either choose from a matte and glossy laminate.
Matte finish is glare-free. Great if you wish to portray a soft, subdued and professional appearance. Ideal for accounting or law firms with a corporate environment.
Glossy finish may be subjected to glare but can repel moisture better. The glossy finish is typically used for high contrast and high-saturation photos. It is more eye-catching and aesthetically pleasing for F&B or movie posters.
Application of Foam Boards
For Retail Space
Foam board sign printing is also extremely popular for using in store or around the office for sales and internal branding respectively. Hang them up using eyelets for sale signs or use them as team signs to indicate who's who in the office. 
Image Credit: Pinterest
Photo booth and Events
Foam boards are also popular when it comes to printing props for photo booths. Be it a photo booth at a wedding or a carnival, you can have your fun in designing a wide range of quirky props. You can even design cut-outs of popular social media platforms such as Instagram or Facebook.
For Wedding Display
Foam boards prints are increasingly being used by newly-weds for their big day. Instead of opting for the traditional wooden prints, wedding couples for going for foam boards printing for their welcome sign that is typically displayed at the entrance of their wedding venue.
One of the up and coming trends is also to use foam board prints as a backdrop for photoshoot, tea ceremonies, etc. The custom foam board print is cut to shape according to the preference of the customer and is usually displayed as a backdrop for photo taking.
For Exhibitions & Tradeshows
Foam boards are commonly printed for events, trade shows, exhibitions, pop up or storefront displays. You can display them by mounting on walls, putting it up on a wood or easel stand. Depending on how you're planning to display/showcase your foam board print, the sizes you should opt for would differ. You can also consider mounting them up in your offices after the event as a way to repurpose the print. Of course, you would have to think of how much empty wall space you have. If you would like to find out more, head over to our exhibition printing solutions.
Life Size Standee:
Life-size standees are unique and eye-catching promotional tools that capture the attention of customers easily. Crafted from durable foam boards, life size figures serve as dynamic advertisements, creating an immediate impact in any setting. Whether it's a friendly mascot promoting a brand or a celebrity endorsing a product, life-size standees draw attention and engage customers. Their versatility and striking presence make them an indispensable asset for businesses looking to leave a good impression and level up their advertising game. Click here to buy your own life size standee
Lifespan for Foam Board Print
Foam Board prints are printed on our high-quality PVC foam board material that comes with a standard lifespan of 2+ years if kept primarily indoors. While foam boards can be used both indoors and outdoors, this material is not totally weather resistant or waterproof. The material also has certain pliability and can be damaged or creased if not handled properly.
With our added layer of lamination, you can be assured of added protection against the elements and UV-decolourization. Nevertheless, exposure to inclement weather or extreme temperatures should be minimized. 
Our foam board printing comes with a stamp of approval from our customers when they tell us that they reuse the foam boards we printed for them for one event after another. 
Framing Options
To extend their lifespan, we have the option of adding PVC frame caps. It serves to protect your foam board poster prints from edge lift or dents and does not add much weight to the poster. We also offer Instagram Foam Board Frame where the cutout resembles an Instagram post. This provides a nice touch to foam board posters that go up on the wall. 
Ways to Display Foam Boards
Hanging
Due to its lightweight nature, Foam Boards are a great material to use for hanging signs especially if the ceiling is suspended. Print double sided with a different image on each side or cut circular so they rotate throughout the day.
On The Wall
Foam Boards are suitable to be pasted on the wall as well. High resolution images or photographs look great printed on Foam Boards and it solves the worry of posters curling up. 
Paper Standee
A paper standee is a stand that allows the foam board to stand alone wherever you want. Hence, it makes the foam board stand out and eye-catching increasing your advertising potential. Click here to purchase a paper standee.
Custom Design
Need a design? Our in-house production team is here to help! 
Here at Lightning Prints, we know creating the perfect printed product means a lot to our customers, and design is a very important part of this journey. If you have a design ready, please follow the artwork specifications:
Requirements
File: PDF, PSD, PNG, JPEG, AI Format
Colour Mode: CMYK
DPI: 300
Text must be outlined
Images must be embedded
If you need us to design for you, kindly get in touch with us via email at cs.lightningprints@gmail.com or call us at 88742567. Turnaround times may vary based on the design complexity.
Lead Time
Because we provide in-house Foam Board printing in Singapore, our lead time is short. Simply submit your artwork to us, and we will have it ready within 2-3 working days. You can do a self-collection at 6 Ubi Road 1 #04-10 S408726, Wintech Building, or have it delivered to your choice of location.
Final Thoughts
Hope you took away something from our guide to Foam Boards. Whether you are looking to jazz up your office, brand your business, or create an amazing store front for your retail shop, you should be considering Foam Board Prints. At Lightning Prints, we provide a professional and budget-friendly foam board printing service with a quick turnaround time. Print foam boards of any size, shape and designs, there is no limit to your imagination!
Head over to our Foam Board Prints page to place your orders today! 
Till the next one, cheers!