The Dos and Dont's to Creating the Perfect Business Name Card
Small as they may look, designing and printing business name cards should not be taken lightly. A name card should look professional, as it is the face of your brand, a representation of your company and also a great marketing tool. Poorly crafted cards often get thrown out or forgotten about, hence putting your business cards to waste. At Lightning Prints, we want to help you get your name cards right, so that you can get the best use out of them!
Whether you've hired a designer or designing a business card yourself, it's important to be aware of what works and what doesn't. With these clear-cut tips of dos and don'ts, you'll be on your way to having a perfectly designed business card! 
Fonts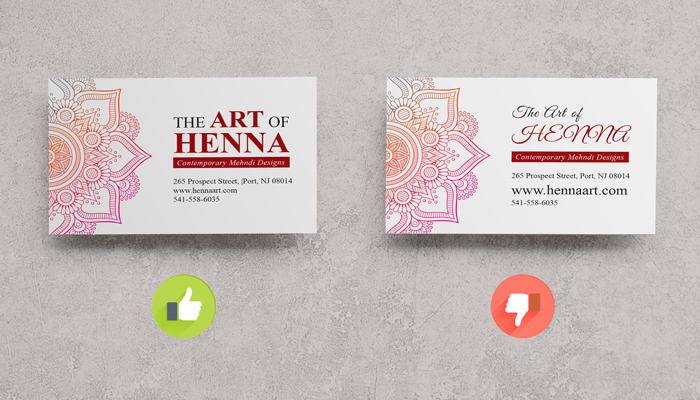 We know, minimalism looks amazing on your name cards, but what good does it make if your customers are unable to read your contents? Thus it is important to prioritise the readability of your card over creativity. This mainly applies to fonts, make sure text size is large and legible enough for anyone to read! Other than fonts, other elements such as lines and colors too play a role in affecting your name cards printing result.
Do:
Use a font case with multiple weights to help with information hierarchy.

 

Condensed, Light, Regular, Semibold, Bold.
Use font size of at least 6pts or larger.
Keep clean lines at minimum 0.25 pt.
Don't: 
Use several font cases. Keep it to 2, 3 at the absolute most.
Use script fonts in all caps. 
Use extremely thin (light) fonts that won't show up when printed.
Information:
A good name card does not need a full contents of a book. You know what they say, less is more!  
Do:
Include essential information like name, title, company, phone number(s), email and website.
Don't:
Include excessive information like years worked, experience level, etc. This is what a resume/portfolio is for.
In conclusion, avoid having too much crammed text in a small space can be a turn-off to some people and make it very difficult to read. Your contents need social distancing too, you know.
Bleeds:
One of our blogs may have this covered. But what is Bleed? You ask. In printing, bleed is the extra part of the side of an artwork that gives printers a small space to cover the inaccuracies of printing. It is in fact difficult to print 100% exactly to the edge of a card. This is why applying bleed is necessary to leave little room for error when the trimming happens!
Do:
Set a bleed of about 2-3mm from the edge of your artwork.
Don't:
Place your contents very near to the edge of your card, don't risk getting important information cut out of your name card!

Use a border in your design, as you risk your final prints being off-centered with an uneven border.
 Print File Formats
Unfortunately, softwares like Photoshop is not the answer to everything, these programs may be handy but it is highly recommended not to use them for design of name cards. This is because the text / logo generated from Photoshop will always be exported as a  "raster", making your text / logo slightly pixelated as a result. To get sharp and clear printing of your cards, we would highly recommend using Vector based softwares such as  Illustrator, Indesign, Canva or even Word can support vector graphics.
Do:
Design your business card in Vector file format. This includes files like pdf, eps, ai or svg.

If you are going to include images, u

se high resolution images or vector graphics so quality is always high. Make sure your original image is 300 350 dpi (dots per inch).
Don't:
Use low-quality images from the internet that would show up pixelated or blurry in your final print.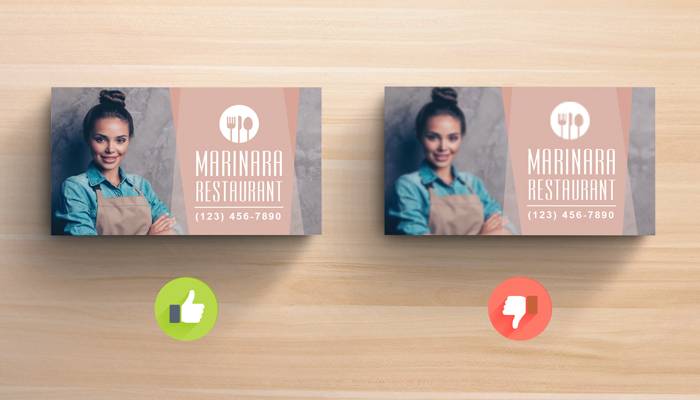 Final Thoughts
At Lightning Prints, we understand the importance of making an immediate and professional statement with your business card. Your business card is the cornerstone of your print marketing tools. Talk to us to learn more about how to win more trust and more clients with a tailored business card design!
Not sure how to create a design? Email us a rough guideline from you on what you expect in the design at ask.lightningprints@gmail.com or or call us at 98267596 or fill up this contact form here! Check out our business name cards today and start crafting the perfect card for your business!
And that is all we have for you today folks. We hope that you've learnt a thing or 2 from our comprehensive tips. Till the next time, cheers!