How to use QR Codes on Foam Boards and Pull-Up Banners
There are various mediums you can use for your promotions. Some of the oldest and most prominent are Pull-Up Banners and Foam Board Posters. But in this digital age, even large format print ads with commendable graphics aren't enough. 
One must make use of digital touches to provide more information to your target market or audience. And by digital touches, we mean simple, affordable, creatively generated QR Code. So, what is a digital code, and how it can help in increasing customer interest and engagement? Read on to find out!
What are QR codes?
For people who aren't aware, QR Codes are an improved version of barcodes. While barcodes are one-dimensional and offer only numerical information, QR Codes are two-dimensional; vertically and horizontally scan-able black and white square boxes that can store a large amount of different digital data, such as URL, images, videos, audio, Google maps, etc. Unlike barcodes, QR Codes can be generated in colors and with images and logos.
Why QR Codes on Pull-Up Banners and Foam Board Posters?
QR Codes give your print ads a digital dimension and can take your business to the next level by integrating the benefits of online marketing and traditional advertising effectively. Benefits include:
Measurable:

 

With the help of QR codes, you can now effectively track the number of consumers who actually saw and engaged. Insights obtained include time of scan, location, date, country, OS used.
Engaging: With QR codes, you can capture attention and create instant interactions with actionable, multi-media content such as videos and in-app games.
Universal:

 

 Easy and convenient to use by anyone with a smartphone. All consumers have to do is point their camera at a QR Code for less than a second and they will be directed to the retailer's online platforms.
Cost-effective:  QR codes can be easily added onto print media and generated for FREE

.
Versatile: For dynamic QR codes, you can change the content of the QR code without worrying about generating a new code.
Ideas on how to make use of QR Codes on your print ads
QR codes in print advertising is a great way to maximise the space you get from your marketing materials. Here are a few of the ways businesses and brands can use QR Codes:
Grow your social media presence: Link QR codes to your social media pages to increase your followers, gain likes and increase your brand awareness.
Drive online sales: Provide online exclusive discount, vouchers or promo codes to drive online sales.
Provide contactless menu at restaurants: This reduces the need for additional manpower and extra wait time while allowing customers to place orders autonomously and quickly in a safe manner. This improves the customer experience, which will result in higher customer satisfaction and repeat purchases.
Provide access to Augmented Reality (AR) for visualisation purposes:

Retailers like Nike lets a user try on their shoes virtually and accurately without the person having to try them on. It is very convenient for those looking to try on multiple designs without the trouble of physically changing the shoes.
Similarly, IKEA uses AR via the QR code to let a customer see how different sofas would look inside their home in terms of color, placement, and setting. This proves to be a very good way of engaging customers, improving the physical shopping process.
Provide automatic connection to your store's Wi-Fi: Having a QR Code on your Wi-Fi makes it quick for your customers to have easy access with only a scan so they don't have to go through the hassle of typing long passwords. When you make customers' lives easier, you create an unforgettable user experience and at the same time promote your brand.
Pique interest with engaging content: Provide additional content, such as a link to a video, social media contest, in-app games and QR-exclusive rewards. People

 prefer brands that give them a fun experience every time they interact with the brand and are more likely to convert.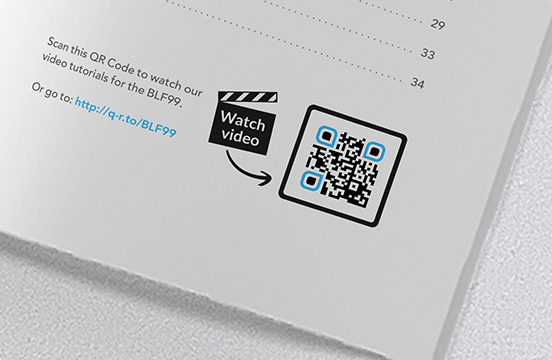 Directions to the store: You can use your foam boards and pull-up banners to drive more footfalls using a QR Code. Link your QR code to Google Maps which displays the location of your store so customers can find you more easily. 
Boost your brand's ratings: Encourage the user to leave ratings and reviews to improve your brand's credibility and social proof. You can also get them to sign up as an email subscriber to expand your audience mailing list.
Retargeting customers online through Facebook and Google: Once a customer scans your QR code, they will start seeing your retargeted ads online on Facebook and Google. Even if a user does nothing after scanning the QR code, they will still be added to the retargeting list. This is a good way to show your interested audience related products they may be interested it.
How to make your print ad and QR Code stand out?
You should never underestimate the power of the black and white boxes. They may lack appeal but they can double or even triple interaction level with your consumers. That being said, you can still create colorful, graphics-based custom QR Codes these days. 
Size: Ensure that you add a QR Code big enough to scan from a distance. 
Call-to-Action (CTA):  Add CTA in a big, bold, readable font next to your QR code. Remember that QR Codes must serve a purpose. Your audience will not know what to do with it unless you tell them. 
Customise the QR Code:

 

Your QR Code does not have to be black and white. You can add colors and your own logo to the QR Code. This not only helps your QR stand out but it also clearly piques the interest of the consumer. QR Codes can now be customisable to resonate with your brand value. 
Consider placement:

 

Place your foam boards and pull-up banners containing your QR code near highly visible and accessible areas such as your point-of-sale area, checkout stations and your window storefronts.
Test your QR Codes:

 

Test your QR Code by holding up your smartphone camera to the screen. 
Keep it simple: Start with basic if you aren't able to come up with anything else – Add a URL of your dynamic website or location of your storefront.
How to Create a QR Code?
Our favourite tool to generate QR Codes is here at qrcode-monkey.com. We find that it does all you need to generate high-quality QR Codes for large format print.
Simply enter your target URL, set your colours, add your logo if required, and optionally customise the design.
Once created (this takes seconds) you can save your QR Code in several formats. For large format printing, we recommend saving in 'EPS' or 'SVG' formats. These formats are scalable, meaning that they can be printed at any size without loss of quality or sharpness! Once saved in the required format, you can place your new QR-Code into your design.
QR codes are the new medium of exhilarating promotional strategies. So, if you wish to sharpen and boost your marketing efforts, we highly recommend incorporating QR codes especially on your foam board posters and pull-up banners. 
Have questions about custom designs or how to incorporate QR codes into your prints? Get in touch with us and we will see if we can best advice you on which course of action to take. Call us at: 98267596 or email us at: ask.lightningprints@gmail.com or fill up this contact form here!
Till next time, cheers!