Glossy Lamination vs Matte Lamination - Which is better?
One of the most common dilemmas our customers face when printing everything from stickers to foam boards is understanding the difference between glossy vs. matte finishes. While gloss lamination catches the eye with high-contrast hues and a lustrous finish, matte lamination offers an understated look and feel to your packaging.
Whether you decide to go with a matte or glossy laminate will ultimately depend on personal preference and/or brand aesthetic, but there are some practical considerations to keep in mind as well. Read on for our tips and recommendations on how to choose the best finish for some of our most popular business printing products!
Business Cards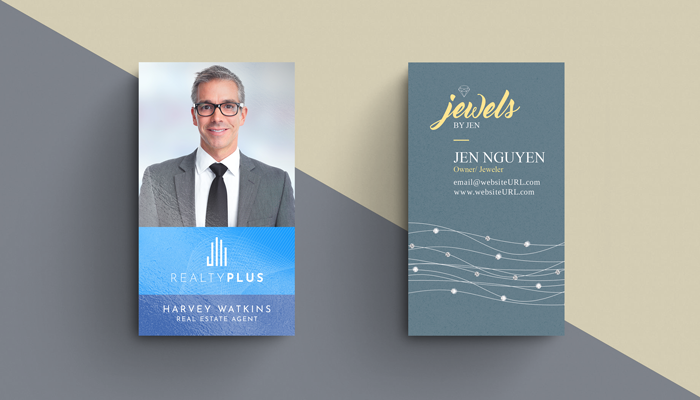 From business cards to automobiles, matte is becoming a popular finish in this modern day and age. A matte finish gives your business cards a minimalistic, polished and professional look.  If your background is predominately black or a very dark color, a matte finish will be much easier on the eyes.  And with the matte finish, you don't have to worry about the glare that a glossy laminate gives. Finally, if you would like the option to write on your business cards, a matte paper stock is more suitable for this purpose.
However, there are many instances in which a glossy business card may be a more suitable option. The gloss coating offers extra protection from moisture and will give vibrant solid colours a lustrous appearance. A glossy stock is also the paper of choice for most photo business cards, as headshots and portfolio images will look polished and elegant.
Custom Stickers
Both our glossy and matte finishes for our custom sticker prints can hold color beautifully. They are equally tear proof and water resistant ; so, it's really a matter of personal taste which surface finish you prefer.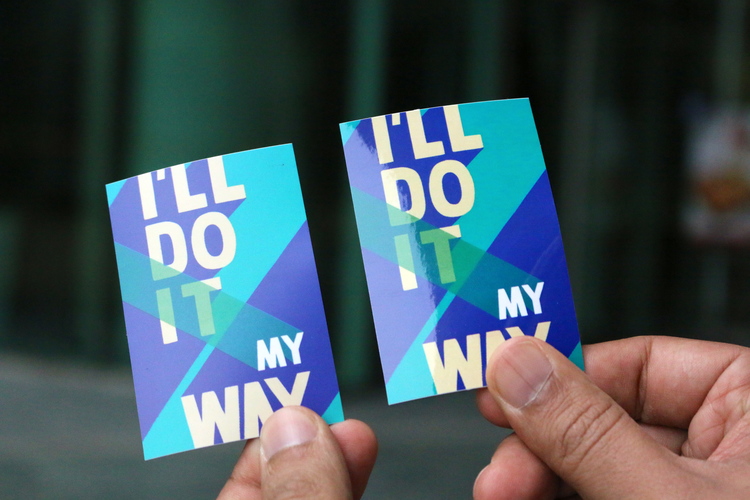 Glossy Sticker Prints: Glossy stickers and decals have a decidedly modern feel with a lot of energy. If your sticker or decal has a lot of colours in it, go for glossy. Glossy laminate tend to create a smoother finish and it can elevate the appearance of everything from wine bottle labels to food packages or bath and body items. 
Matte Sticker Prints: Matte sticker has a soft satin appearance with a very low sheen. It's ideal for sticker designs with a lot of detail.  If you prefer a more subtle and muted look or your artwork has few colors—let matte add some extra sophistication.
Because they have low glare, they are the most suited option for QR codes or barcode labels to enable proper scanning. Moreover, the matte surface is often more receptive to handwriting along with craft materials, such as foils and stamps. Matte finishes also give your labels an authentic, vintage look that communicates natural goodness, thus they make great custom sticker labels for handcrafted or eco-friendly products.
Posters and Foam Boards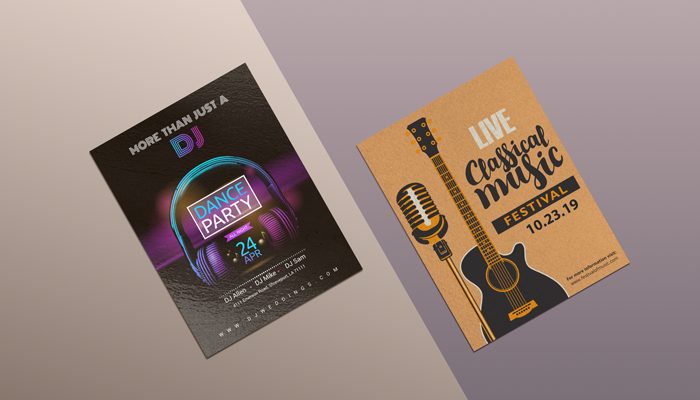 Both glossy and matte laminates are well-suited for foam board prints and posters. The best option will largely depend on the design and the purpose. If your poster is exploding with colour or movement, gloss is the way to go! Glossy finish helps colours pop against one another and creates the illusion of depth in images that look a little flat. It is festive and hard-to-miss, making it an ideal choice for restaurants, clubs, concert venues, and outdoor advertisements.
A matte finish is the perfect complement to a more muted color palette or a design that incorporates retro elements such as a rustic background image and old-world fonts. If you are printing a large poster to display in a brightly-lit environment, a matte finish will be easier to view due to it's low glare. Ideal for indoor displays, trades shows and retail storefront. 
Pull-up Banner
A glossy pull-up banner tends to be rather bright in colour, thus making it great for heavy image pull-up banners. This vibrancy makes the banner eye-catching from a distance, making it well suited for outdoor use such as advertising banners or promotional banners in front of a store or outside for an event. Although a glossy laminate is typically more outdoor-friendly, glossy pull-up banners can be used for indoor displays when glare from external light sources is not excessive.
Ordering a text heavy banner? Go for a matte finish pull-banner. Many pull-up banners at trade shows and conferences have a matte finish. The clean, flat look does well against the sometimes harsh convention center lights above and ensures anything text heavy is legible across the showroom floor.
Final Thoughts
Lamination can change the visual and tactile experience of shopping for the consumer and affect the perceived quality of your brand. So, be sure to consider the type of lamination for your next print project! Sticker lamination might sound like a pricey option, but it really isn't. So long as you get your laminated products from the right place. At Lightning Prints, most of our products come inclusive with lamination. Order now on our website!
Have questions about about lamination or need a quote? Let us know your requirements so we can better recommend you the right kind of laminate. Call us at: 98267596 or email us at: ask.lightningprints@gmail.com or fill up this contact form here!
Til next time, cheers!