A Guide to Custom Acrylic Signage
First impressions are key, but how do you go about keeping your business space looking polished, professional and cohesive? One way is to welcome your clients, customers, or guests with eye-catching Acrylic Signage! 
In today's Lightning Prints blog, we have compiled a guide to our Custom Acrylic Signage. Whether you're promoting your brand, displaying a company logo, or distinguishing rooms or offices, they are an excellent option.

What is Acrylic Signage?
Acrylic Signage consist of clear perspex holders that can display your print or posters with style. It is made from UV stable reliable plastic material that is available in a wide range of sizes. They have a very contemporary high-gloss, modern finish that is perfect for retail and office interior decorating. Extremely flexible in function and aesthetics, Acrylic Signage can reinforce your brand identity with finesse.
Acrylic Signage Sizes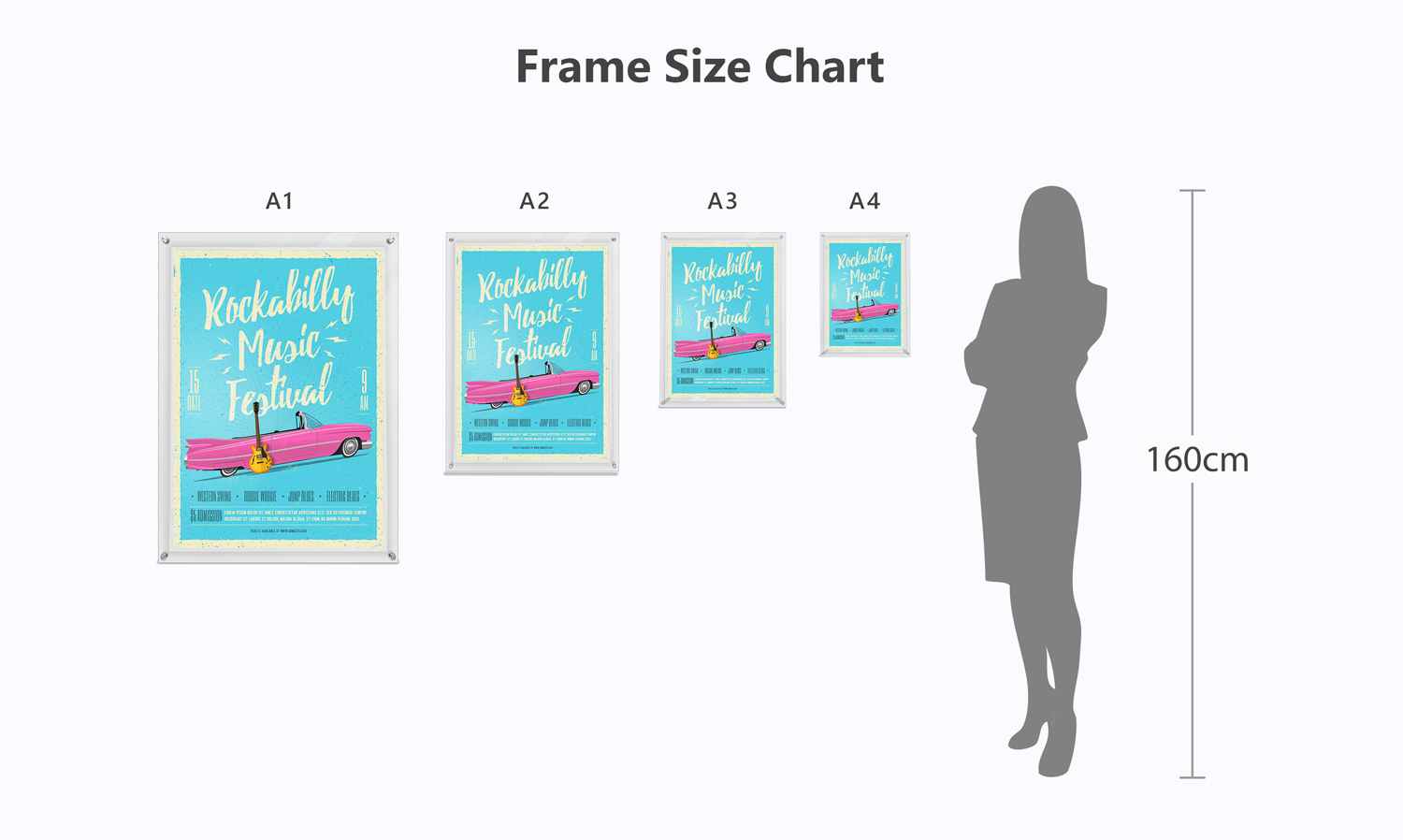 The standard sizes available are as follows:
| Size | Poster Size | Frame Size |
| --- | --- | --- |
| A0 | 841mm x 1189mm | 941mm x 1290mm |
| A1 | 594mm x 841mm | 694mm x 941mm |
| A2 | 420mm x 594mm | 520mm x 694mm |
| A3 | 297mm x 420mm | 397mm x 520mm |
| A4 | 210mm x 297mm | 290mm x 380mm |
Don't see the sizes you are looking for? You'll be happy to know that we provide fabrication for non-standard sizes. Get a square, panoramic, horizontal or vertical acrylic print that is perfect for your space. With no restrictions on size, your print on your acrylic signage will be exactly what you want it to be! 
Types of Acrylic Frames
At Lightning Prints, we have two styles of Acrylic Frame available: Acrylic Sandwich Frame and Acrylic Pocket Frame.
Acrylic Sandwich Frame

An acrylic sandwich frame consist of two high quality clear acrylic pieces (5mm each) put together to hold prints or any display media. The frame is mounted on the wall or partition using at least 4 chrome spacers (depending on the size of the frame). The front of the frame is finished with a polished bevel. Great for those who their print to have a bold and industrial vibe.


Acrylic Pocket Frame
An acrylic pocket frame consist of a piece of high quality clear acrylic (5mm) with a pocket to hold the print. The pocket can be placed in front of the display or hidden behind. The frame is mounted on the wall or partition using at least 4 chrome spacers (depending on the size of the frame). The front of the frame is finished with a polished bevel. Changing of posters is made easy as prints can be switched out easily from the pockets.
Installation of Acrylic Signs
The acrylic signs are mounted to the wall using chrome spacers. Wall plugs will be use to secure the acrylic signage on concrete wall or partition walls and drywalls.

You may require installation for these acrylic signs onto your wall. Please note that installation by us will come at an additional fee.
Why Acrylic Signage?
Acrylic signs stand out as a preferred choice thanks to the material's versatility, durability, and cost-effectiveness. Being available in lots of formats and sizes allows for total control and customisation! 
1) High Resolution and Clarity
Acrylic is optically superior, naturally without tinting commonly seen in glass. This optical purity makes it a great option for displaying and protecting prints and artwork. The glass-like quality of acrylic looks clean and sophisticated when used as a background for simple text or graphics, such as a company logo.  It also provides your print and images with radiant and vivid colours that will surely grab the attention of your customers or guests.
2) Durable and Long-lasting
The tough plastic material is not as fragile like glass and it is resistant against all kinds of weather, making it useful for indoor or outdoor signage. They also act as a protection against moisture and UV light, prolonging your prints for many years to come!
3) Lightweight and Portable
Although acrylic is a tough material, it is significantly lighter in weight than glass, making transportation and installation easier.  It also lowers the risk of dropping and breaking.  These qualities allow acrylic to last longer than other signage materials, which is an important factor for businesses to consider when investing in advertising displays and signage.
4) Customisable
Acrylic has the ability to be cut into any shape or size, making it easy for manufacturers to customize a sign to the needs of the client.  In addition to the flexibility of the material, acrylic signs can have any design printed or affixed to it, allowing you to create an appearance that works best for your business. For custom sizes, contact us at cs.lightningprints@gmail.com or call us at 8874 2567 to see how we can help you.
How to care for your Acrylic Signage?
Maintaining and cleaning acrylic signs is very simple, although there is one rule: Never use abrasive liquids (like isopropyl alcohol) or ammonia-based detergents to clean acrylic signs. The best way to clean acrylic signs is to use a micro-fiber cloth and a mild detergent mixed with water.
Applications of Acrylic Signs

Acrylic signage works for any kind of business.  Hotels, retail stores, and restaurants are common examples of where you might see acrylic signs. Acrylic can be used to form a variety of useful and creative products, for example:
Freestanding signs and cardholders
Office and Retail Decor
Illuminated menu boards
Retail and restaurant signs
Name tags and name plates
Informational signs
Directional signs
Room identification signs
Exhibition signs
The uses of acrylic are only limited by the imagination. With a bit of creativity, acrylic can be used to enhance the visual aesthetics of existing signage. When you are ready to take advantage of the flexibility, durability and budgetary benefits that acrylic signage can offer, quote us for a custom acrylic signage at cs.lightningprints@gmail.com or call us at 8874 2567!
Till next time, cheers!