Custom Sticker Printing - Do's and Don'ts
While they are tiny, sticker prints require some attention to detail when it comes to printing. After all, you would definitely want to leave an impression when you print your stickers. It would be unfortunate if you have printed your stickers only to find out the result wasn't what you expected, or that the design and specifications were unsuited for the intended application.
Fortunately this could all be avoided, as we at Lightning Prints got you covered! As here is our DO's and DON'Ts in custom sticker printing before you order stickers.
The DO's
1. Choose your sticker print material wisely
One of the most overlooked factors when printing stickers is the material used. It is important and professional to know what you are printing on as different materials come with different characteristics. For example, Kraft or Mirrorkote stickers are not waterproof and thus, they are not suitable for refrigerated products and Bath & Body products . Instead opt for a Waterproof Synthetic Sticker that comes with a either a gloss or matte laminate to further provide your stickers with an extra layer of protection from tears and smudges. Knowing more about these sticker materials can help you decide better when you plan to print your sticker.
2. Be wary

 of Transparent Sticker Labels 

Sometimes a transparent sticker print is the perfect way to create a striking look that emphasizes your packaging – and show off everything inside of it. However, one of the pitfalls is that they can show off every imperfection from the application process. Common issues like air bubbles and wrinkles are magnified on transparent, glossy films since there's no color to hide them. As such, this makes them most suitable for solid, smooth surfaces (flat & curved) such as bottles, glass, sturdy boxes and windows. 

Another way to avoid unsightly bubbles is to put a layer of white base behind the individual elements of your design to shield it from the packaging or its contents. This will offer more visibility, vibrancy and make any imperfection significantly less obvious. Opting for a matte laminate would also help in minimising any unwanted textures.
3. Set up safety margin and bleeds for your sticker designs
To make sure that you will receive high quality stickers, you need to ensure that your artwork accounts for bleeds and margins of at least 3mm each. During the print process, slight cutting imperfections are to be expected - cutting can be off by 1-2mm  from the cutting line. Without bleed and margins to act as a safety buffer, some important information can be cut out, or your products can end up with a unsightly white border around the artwork.
Without Bleed vs. With Bleed 
To find out how to prepare your artwork for sticking printing, do give our past blog Guide to Designing and Printing Custom Stickers a read.
If you need more guidance, we at Lightning Prints can help you with setting up your artwork for custom sticking printing. All you have to do is send us your file via email at ask.lightningprints@gmail.com.
The DON'Ts
1. Print illegible words
One of the most common mistakes when it comes to printing is the legibility of text. As small as custom stickers can be, the text size cannot be smaller than 6 pt. This is especially important when conveying vital product information or food warning labels. Any smaller will result in a sticker with unclear words, which could mislead the consumer. This can be challenging when designing tiny stickers (size eg. 3x3cm), but do prioritise the readability of the text before anything else, text size matters! 
2. Create overcomplicated die-cuts
Just like cookie cutters, unfortunately die-cuts have their limitations as well. Depending on the shape, certain over-complicated die-cuts cannot be done on stickers, let's say a 70-pointed star for example. That said, good news is our die-cuts can cut better than cookie cutters! Just don't overdo the shapes or else your sticker may not turn out as well as you would have liked.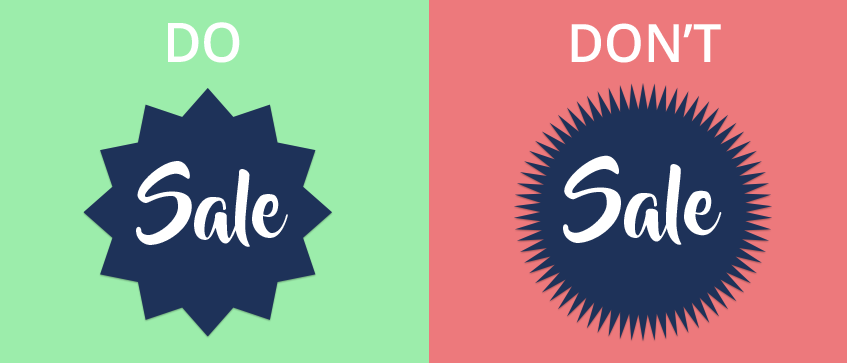 3. Create your sticker with the wrong dimensions
It is as any other artwork that needs printing, your sticker canvas should be exactly as the size to be printed. This is because having the wrong size dimensions can skew your perspective of the artwork. Creating a 3x3cm sticker for example would mean you need to set your canvas as 3x3cm as well. To avoid printing 'accidents', you can never go wrong by setting your sticker dimensions as the size it should be. This can be done on design tools such as Photoshop, Illustrator and InDesign.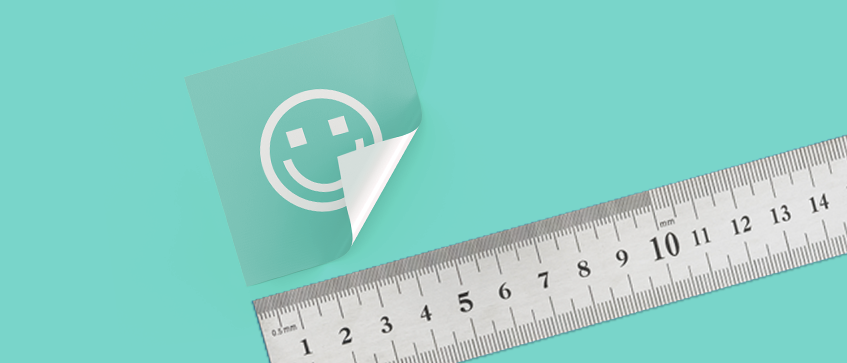 Now that you know how to design and print stickers, you still need the right company to help you pull off your vision. At Lightning Prints, we have the tools and expertise to develop high-quality custom sticker print labels with your specific needs in mind. You know your products and we know label printing. Together, we can make sure that your labels compliment your products and make people notice your brand!
Ready to wow your customers with eye-catching product labels? Contact Lightning Prints today to talk to one of our experts about your next sticker printing project. Call us at: 98267596 or email us at: ask.lightningprints@gmail.com or fill up this contact form here!

Till next time, cheers!